Cannabinoid and terpene test of Lemon OG Candy
The medicinal properties of cannabis are a hot issue among the global scientific community. Today, studies and trials on the different cannabinoids and terpenes are more and more numerous, which is reliable proof of both the increasing interest about these molecules and the presence of a number of benefical effects that may help people around the world to treat a vast number of medical conditions.
Philosopher Seeds are aware that information on cannabinoid and terpene content is much more requested today than just a few years ago, so we're proud to publish here the first complete analysis of one of our top sellers, the amazing Lemon OG Candy. Hopefully, this will be the first of a series of tests performed on our cannabis strains. Let's check the results now!
Cannabinoid test of Lemon OG Candy
The following test includes some of the main cannabinoids found on cannabis strains: we have then THCA, CBDA and CBGA content, the acid forms of THC, CBD and CBG respectively (which we also have). Finally, we also have CBN content, a secondary cannabinoid which is formed by a degradation of THC and which has potent relaxing properties, even sedative.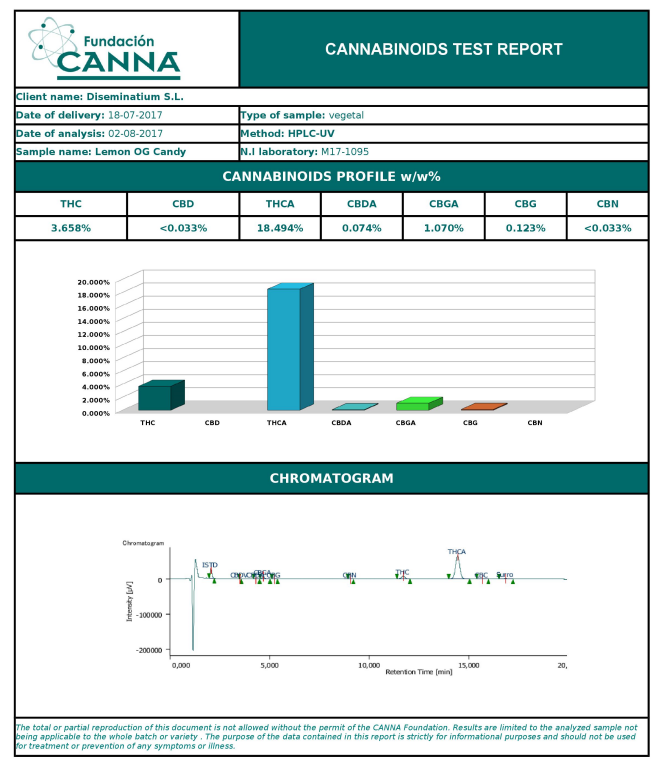 As we can see, the total amount of THC exceeds 20%, which can be considered high if compared to other varieties.  To obtain this value, we must add the THC% and the THCA%, which will turn into THC once we heat the green material when smoking or vaping by losing a CO2 carboxyl group, a process known as decarboxilation. We can also see that the total amount of CBD (CBD+CBDA) is lower than 0,1%, as happens with CBN (lower than 0,03%).
Perhaps the most outstanding result is CBG content (CBG+CBGA), which is higher than 1%. While it may seem a low number, the truth is that most cannabis varieties don't reach 1% content of this fascinating cannabinoid. CBGA is actually the precursor of some of the main cannabinoids produced by cannabis (THCA, CBDA, CBCA, etc.), which are formed by a number of enzymes (synthases) that transform CBGA into the aforementioned compounds. CBGA may have a large number of medicinal properties, such as anti-bacteria, anti-spasmodic, anti-inflammatory and neuroprotective effects, and may be also used to stimulate appetite or relieve pains.
Terpene test of Lemon OG Candy
As you can see on the following graph, the complete terpene analysis includes 16 monoterpenes and 7 sesquiterpenes, with the images from the chromatograph and pie charts in which we can easily check the ratio of each compound. Among the former, terpinolene (also known as delta-pinene) is the major terpene found, a compound with woody aroma and citric and floral notes known for its anti-bacteria, anti-oxidant and sedative properties which also plays a role in the socalled entourage effect, a form of sinergy created among the different molecules produced by cannabis.
The concentration of beta-myrcene and linalool are also worth mentioning, and as could not be otherwise, d-limonene. Finally, low amounts of alpha-pinene, beta-pinene and trans-ocimene were also found.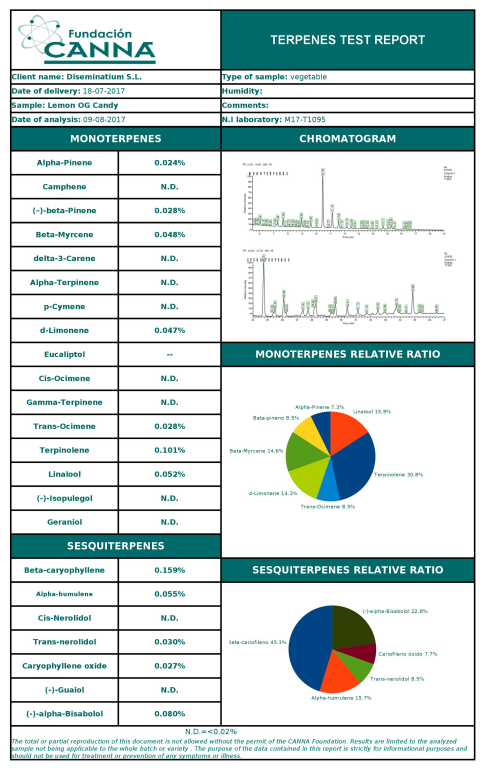 With regard to sesquiterpenes (terpenes with 15 carbons), we can notice a predominance of beta-caryophyllene, a compound with spicy and sweet, woody notes. We could also highlight the alpha-bisabolol (floral scent) and humulene (similar to hops, also known as alpha-caryophyllene) content. Finally, remarkable amounts of  caryophyllene oxide and trans-nerolidol were also found.
As you can see, this complete test shows us the cannabinoid and terpene profile of our beloved Lemon OG Candy. We hope this info will be useful for you, especially if you're looking for certain therapeutic effects.
Happy testing!