Germination of cannabis seeds
The first stage for any grower is germinating the seeds. To achieve best results, we should use healthy, quality cannabis seeds. All seeds from Philosopher Seeds come in labeled packages with a batch identification number, so the product tracking is much easier.
Although seeds do not need much to germinate, we do have to consider a few basic aspects to be successful. It's kind of a prenatal stage in which the grower has to be very careful to meet the few needs of the seeds during this phase.
What are the needs of a seed to germinate?
First of all, we should state that healthy and viable seeds do not need any type of additive or special handling to germinate.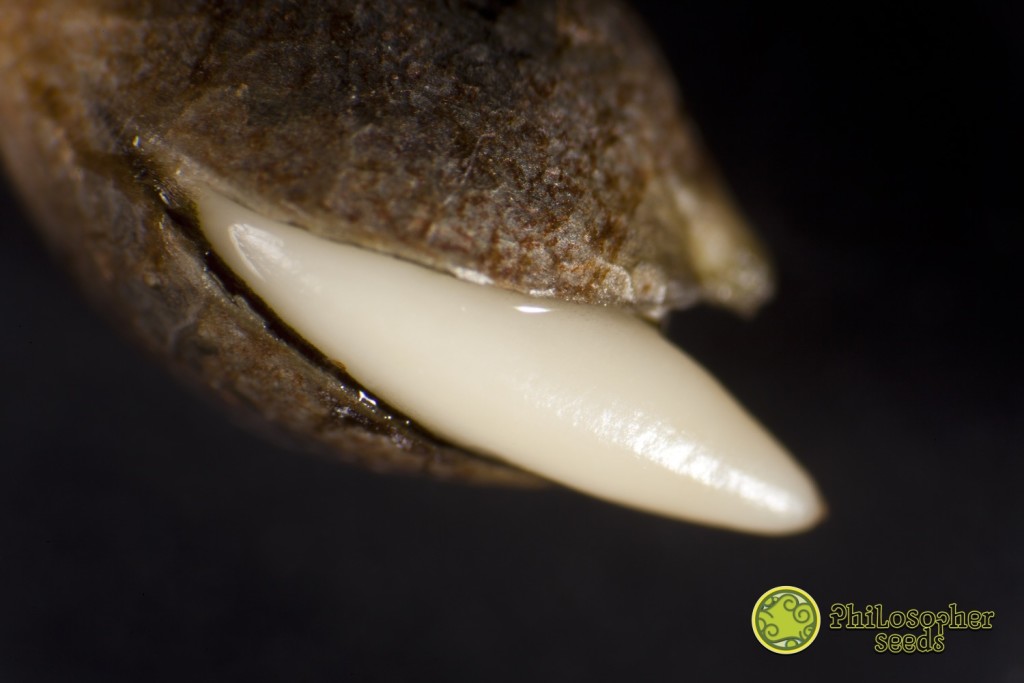 Basically, seeds need 3 things to germinate:
High moisture level (80-100%)
Average temperatures (20-24ºC)
A bit of oxygen
For this article, we used Heaven's Fruit and Spicy CBD / SuperJuani seeds.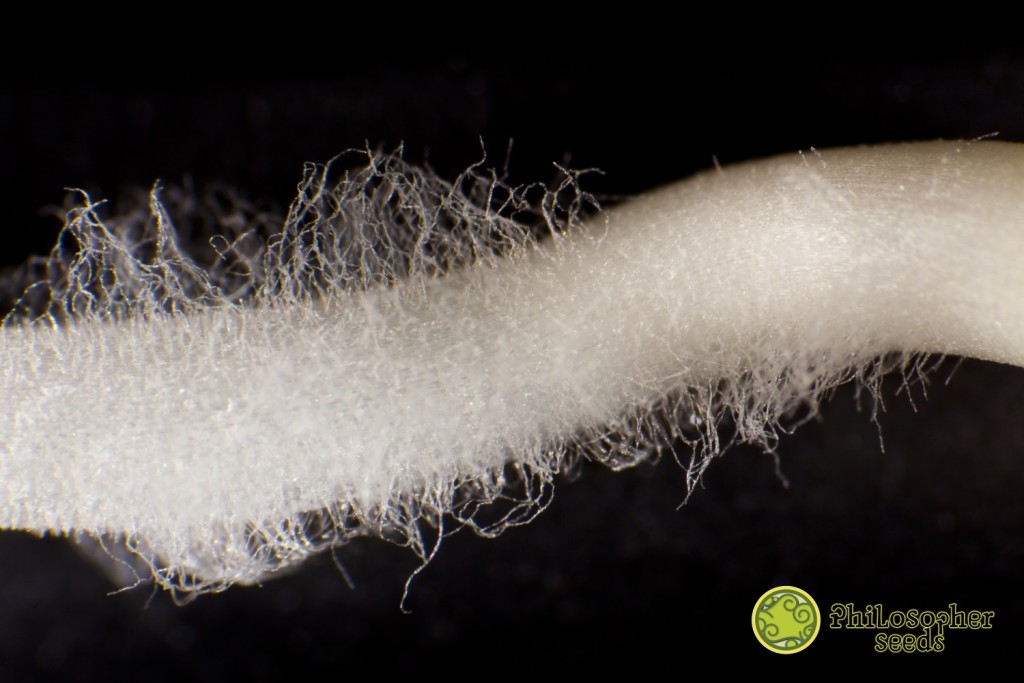 Different propagation media for germinating cannabis seeds
These are the most commonly used mediums to germinate marijuana seeds:
Glass of water: Some growers use a simple glass of water to germinate their seeds. You just have to put them in the water and in few days you'll see the radicle sprouting. This method works well especially for hydrating the seeds, but we must remember that they can't be soaked in water for more than 2-3 days, otherwise they may rot. Using RO water is advised, although you can also use tap water (let it set for some hours so it reaches room temperature and all chlorine is evaporated). Once you see the radicle, it is time to plant the seeds in a suitable growing media. Many growers add a few drops of hydrogen peroxide to the water to accelerate the process.

Cannabis seeds germinating in a glass of water

Paper towel: Probably, the most commonly used technique. Just place your seeds between two moist paper towels (do not use too much water, you just want the paper towels to be humid). You can place the paper towels on a dish or tray and leave it in a dark, well ventilated area with constant temperature. The paper towels should never dry, so we'll have to check them regularly (twice a day) to ensure proper germination.

Germination of cannabis seeds on paper towels

Seed ready to transplant

Peat Moss Pellets: These small pellets, made of dehydrated peat moss or coco coir, have to be hydrated before use. They are easy to store since they take few space when not hydrated. They retain moisture and have a correct amount of oxygen.
Rockwool: Small rockwool cubes are also used to root cuttings and germinate seeds. However, they retain lots of water, which means less oxygen. Always try not to hydrate them too much.
Rooting cubes: With a texture similar to foam, these cubes are made of composted organic matter and have an excellent water/air relation, perfect to germinate seeds.
Definitive substrate: Of course, a pot filled with growing media can also be used to germinate our seeds. If you are using clay pebbles, mapito, volvanic rock, etc. you should previously germinate your seeds in another medium, preferably rockwool or rooting cubes.

Transplanting the seed
Regardless of the chosen substrate, put the seeds about 2-3mm deep and cover them with a thin layer of substrate. Always remember that seeds are living organisms and some of them may be weaker than others. We are especially concerned about customer satisfaction and always encourage you to tell us your experience. Producing seeds is a passion for us!
"Seed banks do not produce seeds but optimism!" Goeffrey Stephen Hamilton
Grow lights for germinating cannabis seeds
Right after the seedlings start sprouting from the seeds, they need a light source for proper growth.
If you are growing cannabis outdoors, make sure that your plants have enough sunlight for proper development.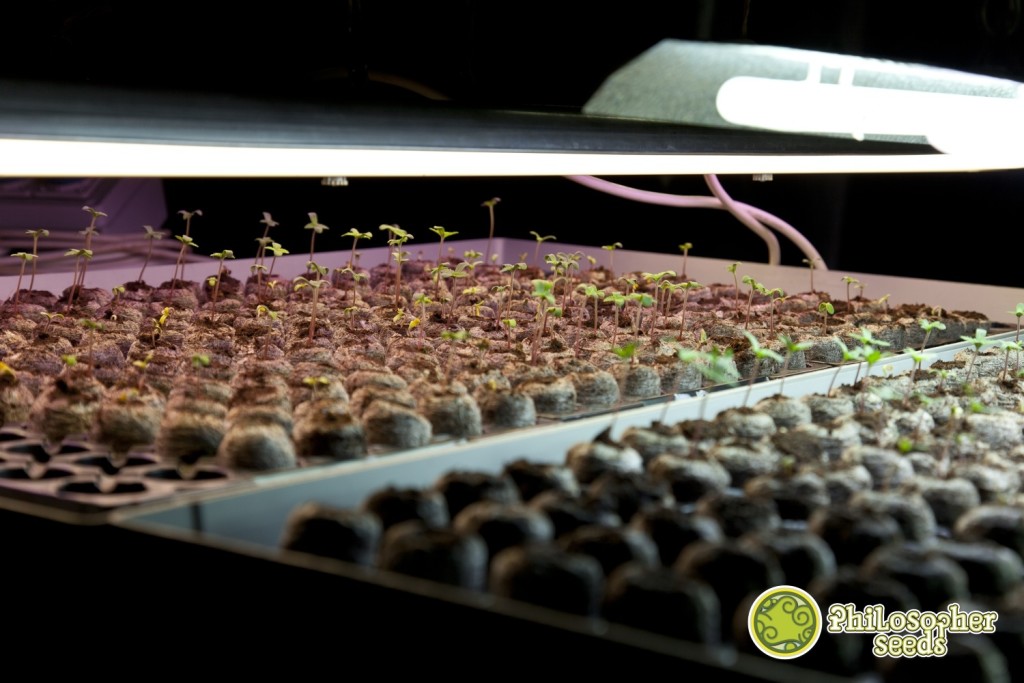 On the other hand, if you're growing indoors, use fluorescent tubes or CFLs during the first days. In some days/weeks, you can change to MH lamps or LEDs, always checking the temperatures inside the grow room.
Latency
There is a method for germinating aged seeds which have lost most of their germination capacity. Although this method is not necessary to germinate our seeds, it can be useful for some of you.
This method implies keeping the seeds at very low temperatures for a short amount of time, and then let it reach room temperature slowly. In this way, we replicate the winter-spring period, which stimulates the germination of seeds. Seeds are kept for 3 days in the freezer, 3 more days in the fridge and 3 more days at room temperature before starting the germination process.
The best method to germinate cannabis seeds
There is neither a miraculous technique to germinate seeds, nor a miraculous method to grow cannabis. Each grower has its own preferences depending on knowledge, equipment,etc. The key point is understanding the needs of the plant.
If you have further questions or doubts before germinating your seeds, do not hesitate to leave a comment here, we'll be pleased to help you in any way we can!