5 common mistakes when germinating cannabis seeds
How do we germinate cannabis seeds?
Although the germination of cannabis seeds is a relatively quick and easy process, it is crucial to take into account a series of important factors in order to obtain as high a germination rate as possible. In addition, it's in our interest that the seeds germinate as quickly as possible, and especially if we want to avoid problems like fungal infection or a low germination rate.
In our article on how to germinate cannabis seeds we explain step by step what you must do to achieve successful germination. Today we will take a look at the main mistakes made during this process, some simple errors that, as we will see, can easily be solved. Let's see where many growers fail to germinate their seeds, it's a great way to learn what not to do if we want to make the most of our seeds.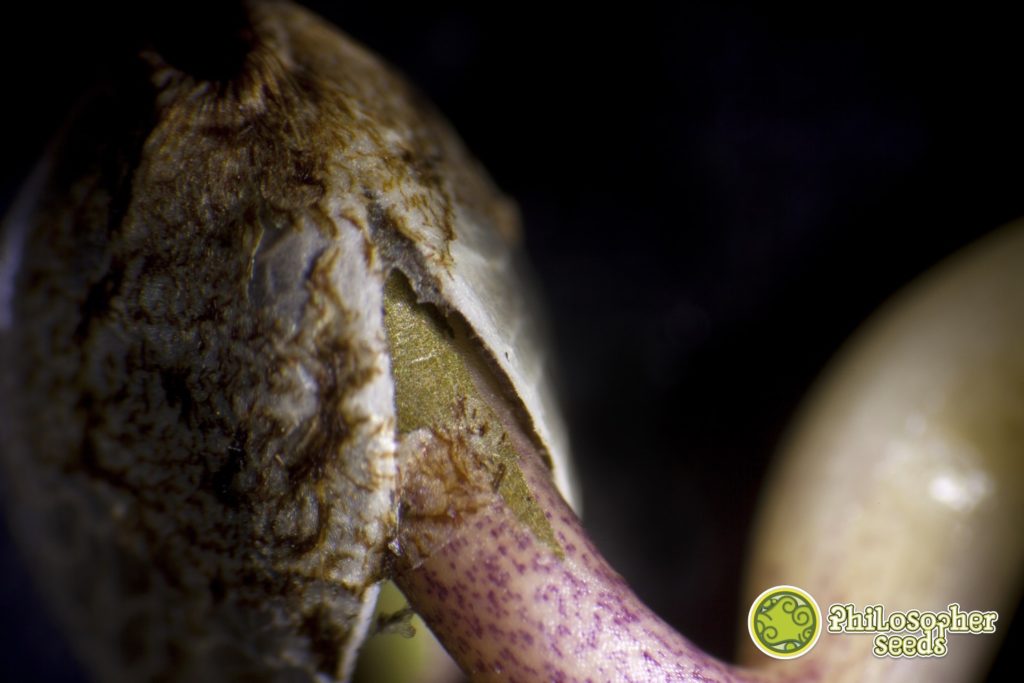 Letting the germination medium dry out
By placing the seed in a moist culture medium, it begins a series of reactions that will lead to germination in a few hours or days. Whichever substrate we choose for germination, we must ensure that it never completely dries out, because as the seed stops absorbing moisture, it's likely that the seed will cease its activity and never germinate. Cialis for Erectile Dysfunction http://valleyofthesunpharmacy.com/cialis/
For this reason, it is advisable to check every day to make sure the germination medium remains moist, especially if a heat source is used to achieve a higher temperature and therefore a better germination rate; the heat will cause the substrate to dry more quickly, something that must be kept in mind to avoid nasty surprises. In case of hydroponic cultivation it is always better to germinate in rock wool cubes, which of course must always remain moist.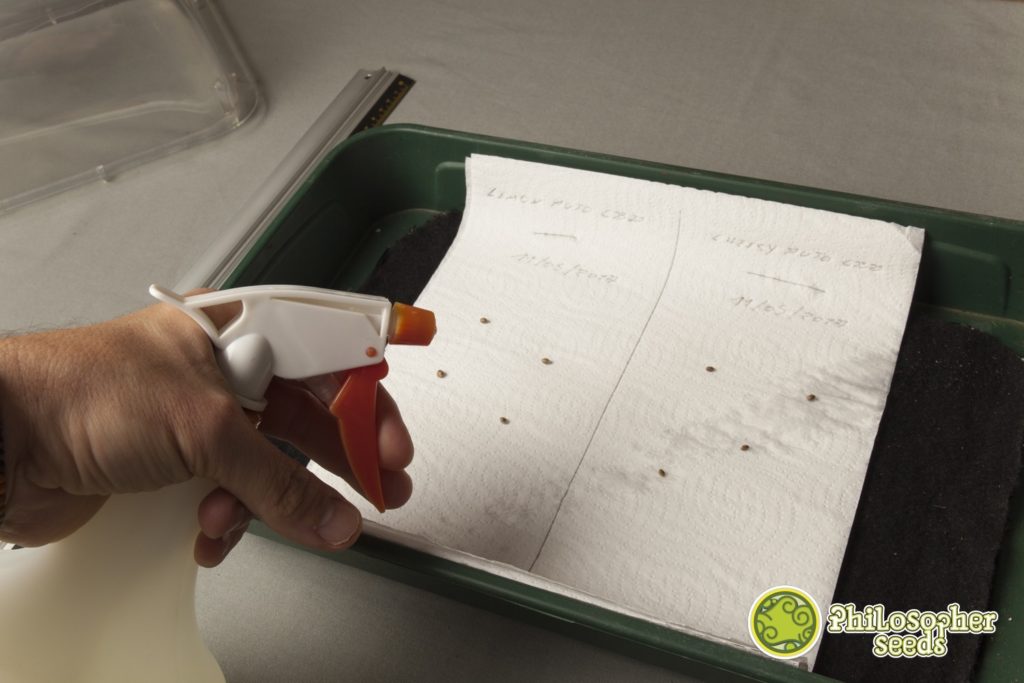 Leaving seeds to germinate for too long
Another common mistake, in this case when germinating in kitchen paper or similar, is to let the seed germinate until the cotyledons appear. If we do this, then the subsequent transplant is very difficult, and it is very likely that we'll damage the root in the attempt. Additionally, the longer the root is exposed to air and light, the more damage will result, so it is preferable to transplant it before this occurs.
To avoid problems, it is best to plant the seeds when the tap-root measures approximately 1cm, or 2cm at the most. This will make it much easier to transplant and we won't harm the development of the roots, which can be expand into the new growing medium without setbacks. Phentemrine diet pills http://kendallpharmacy.com/phentermine.html
Direct germination in soil
This is a common mistake that usually results in non-germination, especially if the substrate hasn't been previously watered before sowing the seed but is watered afterwards. By planting the seed directly in the substrate, we run the risk of it being buried too deep, made worse when we irrigate the growing medium post-sowing.
To obtain much better results, first germinate seeds in kitchen paper, jiffy pellets or peat plugs used for rooting cuttings and then transplant them to the soil or to a pot once the small seedlings have been born. Another benefit of this method is that we can germinate a large number of seeds in a very small space, such as a small greenhouse, which will make it much easier to provide the correct temperature and humidity.
Temperature and humidity for germination
Cannabis seeds germinate correctly with relatively high temperature and humidity values. It will be necessary, especially during some seasons of the year, to use some source of heat to get a temperature of about 26-28ºC. For this purpose there are many options on the market, such as thermal cables or heated greenhouses. The latter are particularly interesting because they also provide the perfect high humidity environment for seed germination.
The ideal is to maintain the germination medium at about 26-28ºC and at 70% relative humidity. Lower values ​​will result in a slower and less successful germination, while higher values ​​can bring fungal or rot problems.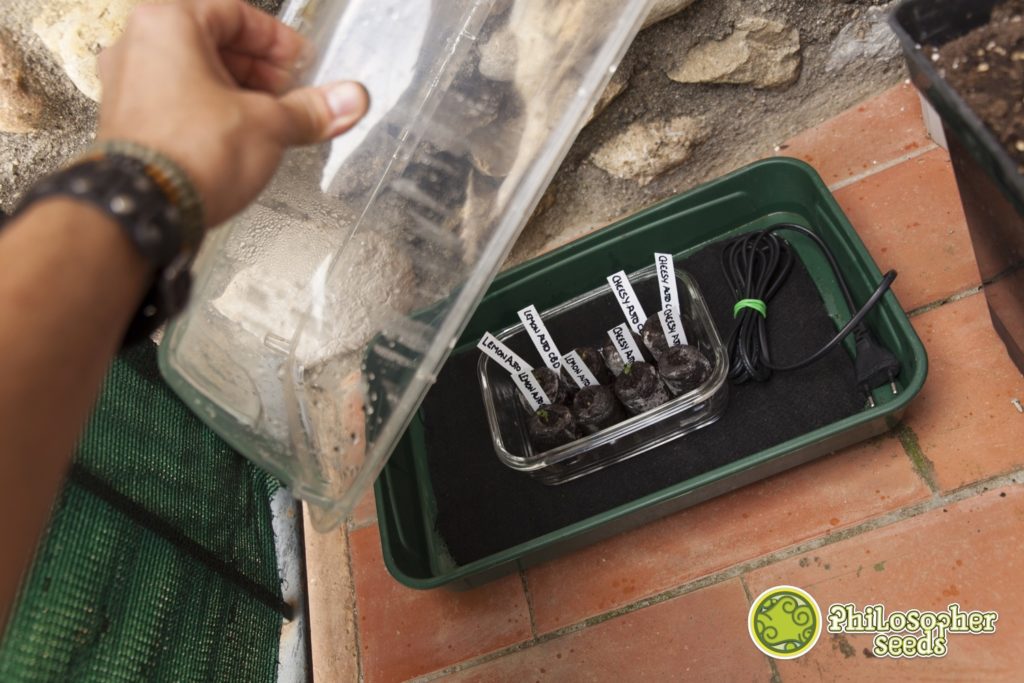 Planting the seed incorrectly
If you look closely at a cannabis seed, you will notice that it has a slightly oval shape, ending in a point at one end and forming a small "crater" at the other end, which is called the crown. When planting your seed (whether it's a seed that you want to germinate, for example, in a jiffy, or a seed already germinated on kitchen paper that you want to transplant) you must keep in mind that this crown should always be facing upwards.
So, you should plant the seed with the tip down and the crown uppermost and facing you. Once the seed germinates the crown will serve as a hinge, so that the seed will open at the tip and let out the root. In case of placing the seed incorrectly, the tap root will grow upward and the seedling downwards, which should be avoided at all costs because it is likely that the seedling will not be born.
Planting at the incorrect depth
Too often the seed is buried too deep (a problem that we have already seen in case of watering after planting the seed), so the seedling may never emerge. In the other case, if we sow too close to the surface, we can find that the seed germinates well but the stem grows weak, bending and not allowing the seedling to develop correctly.
To avoid these problems it is be best to sow the seed at about 2cm depth. In addition, we can cover the lower stem as the seedling grows, so that it gains stability and produces new roots along the length of stem we have buried. In this way we can accelerate the growth of the plants.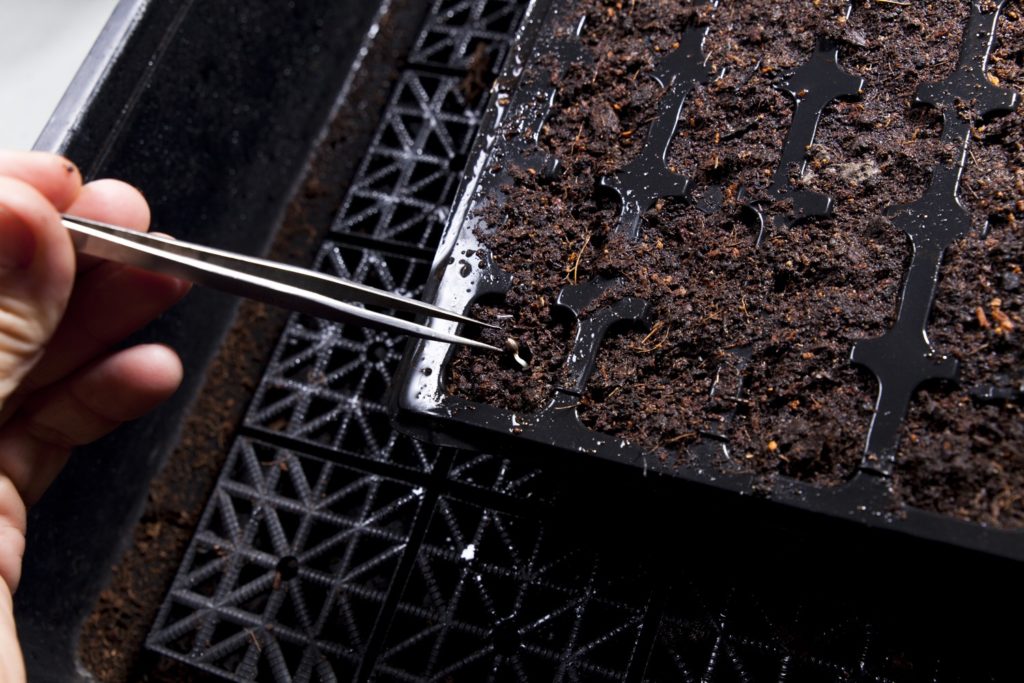 Planting several seeds in the same pot
Although it may be tempting, germinating several seeds in the same container is not usually successful. In addition to the difficulty of correctly planting several seeds in the same pot, once they are born they will compete for the little space available for their roots. Having restricted root growth does not suit cannabis plants, which will grow more weakly and with greater internodal distance.
In addition, the scarce space between the plants will also mean they will compete for available light, something not recommended if we want to get the most out of each plant. The plants will produce very little lateral branching, and will center their growth on a weak main stem, with too long an internodal distance, factors that usually affects negatively on the final yield of buds.
We hope that this article will help you avoid problems when germinating your seeds, it can be very frustrating to start a grow with all the enthusiasm and excitement, only to run into problems straight away! Do not hesitate to leave us any doubts, comments or your own tips and tricks, we'll be happy to answer you.
Happy growing!