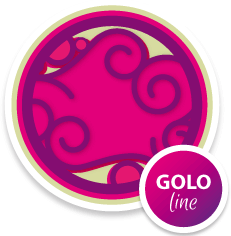 Golo Line
Sweet, fruity and CBD strains
Golo Line is the result of a collaboration between Reggae Seeds and Philosopher Seeds.
In this collaboration we have joined efforts and experience to develop strains which stand out for their amazing scent, taste and effect.
To achieve it, we used parents with unique and outstanding organoleptic features.
We used parents like our Tropimango male and CBD strains to stabilize the offspring and make it more compact.
With this breeding project, we got marijuana strains with very interesting THC:CBD ratios, with lots of potential therapeutical applications.
1 seed

9.00€5.40€

3 seeds

26.00€15.60€

5 seeds

42.00€25.20€

25 seeds

175.00€105.00€

Maximum CBD, maximum pleasure

1 seed

9.00€5.40€

3 seeds

26.00€15.60€

5 seeds

42.00€25.20€

25 seeds

175.00€105.50€

Productive Sativa with CBD

1 seed

8.00€4.80€

3 seeds

21.00€12.60€

5 seeds

32.50€19.50€

25 seeds

125.00€75.00€

Excellent therapeutical cannabinoid ratio

1 seed

8.00€4.80€

3 seeds

21.00€12.60€

5 seeds

32.50€19.50€

25 seeds

125.00€75.00€

1 seed

8.00€4.80€

3 seeds

21.00€12.60€

5 seeds

32.50€19.50€

25 seeds

125.00€75.00€

Terpene profile reminiscent of oranges

1 seed

8.00€4.80€

3 seeds

21.00€12.60€

5 seeds

32.50€19.50€

25 seeds

125.00€75.00€

Spicy taste, relaxing effect

1 seed

8.00€4.80€

3 seeds

21.00€12.60€

5 seeds

32.50€19.50€

25 seeds

125.00€75.00€

Uniform and compact strain

1 seed

8.00€4.80€

3 seeds

21.00€12.60€

5 seeds

32.50€19.50€

25 seeds

125.00€75.00€

1 seed

8.00€4.80€

3 seeds

21.00€12.60€

5 seeds

32.50€19.50€

25 seeds

125.00€75.00€
---